XANDER: PART 2, The Present, Rockstar Series Book #8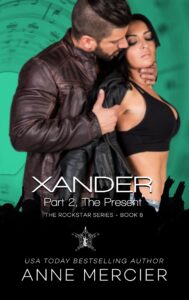 It's ten years later, and we're still living separate lives. While I know she isn't comfortable with my lifestyle after everything she's been through, I can't be without her anymore.
I need her.
She's my wife.
She's my heartbeat.
She's my every breath.
She's my everything.
I want to know every detail of her life. I want to be part of it all. I want to work as hard to get there as she did to get here.
She's always been my girl—even at the age of eight. As I face her now, there's no doubt she'll be mine until I draw my last breath.
It's time for our forever to begin.
BUY HERE