THE WAY BACK TO ME
The Way Book #1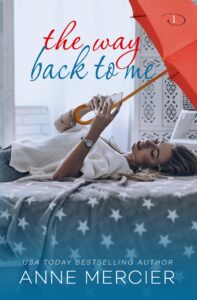 "The Way Back to Me is one of those stories that sits in your soul and demands you to pay attention to it long after it's been read. This book is only a beginning, but the emotions and honesty Mercier paints into the words will have you rushing for its second half." ~ Ginger Scott, USA Today Bestselling Author 
My life was charmed. I had the best friends ever. We were known as the Fab Five and our futures were planned out.
In a flash, everything was taken from me.
When I get to college, I see him.
Cameron Stone. Mr. Football. Mr. Popular. He's definitely hot, but on the inside he's vile. He made my childhood a living nightmare. My bully. I don't know why he hates me or why he's suddenly being so nice to me. All the sweet talk in the world won't work. I know better.
So, why am I listening?
**
She was perky, fun, and full of life—everything I hated about girls and their bullshit exterior.
People called her bubbly; I called her "fake-as-hell.
The edgy, dark, lonely girl in front of me was not the Olivia Brennan I knew from high school—far from it, actually.
I knew the story—the whole town knew the story, we witnessed it all. It happened in the blink of an eye and the girl we knew was gone.
But I refuse to watch it anymore—I can't stand it. I'm going to fix it—fix her.
It's time I showed Olivia Brennan her way back… Back to the girl she used to be.